Recently I was testing out a laptop I had just put an SSD in. The laptop had Windows 7 installed and one of the biggest things I noticed while using it was that the Start Menu search was fast. Like really fast.
My first impression of the Windows 10 Start Menu was not that it was fast. In default settings, I still don't think it's fast. Taking 3-20 seconds to find what you're searching for (even typing in the name exactly) is very slow. So I finally decided to try to figure out what was going on, and these 2 things helped me:
---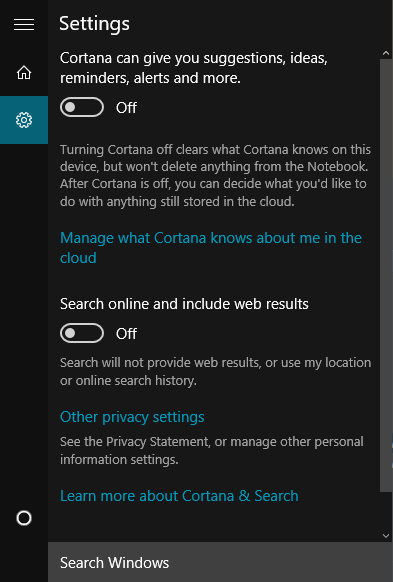 One
I completely disabled Web Searching. While this didn't make a huge difference, it cut a second or two off the searching time. You can disable this by searching something and clicking the Settings cog. Then disable "Search online and include web results".
---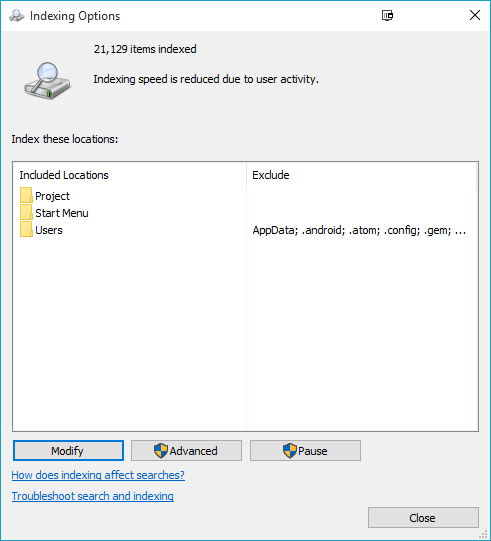 Two
Since at least Windows 7, Windows has allowed you to modify what is being searched. You can open this panel by searching for "Indexing Options". Once inside, you'll see a few locations. The main location you'll need to modify to make your search faster is the Users location. Modify this by clicking Modify -> Users -> Disable folders you don't want indexed.
The main things I found helpful to not index were repositories and certain code directories. Some of these had thousands of files. I was able to get my index down from 300,000 files to a small 30,000 files.
You can force the index to rebuild immediately by clicking Advanced -> Troubleshooting -> Rebuild